Home

Contact Us

Site Map




Exchanges


Why be an Exchange Student




Exchange Programs


The Exchange Programs

Long Term Exchange Program

Short Term Exchange Program




Rotary and ESSEX


What is Rotary and ESSEX




Application Process


Long Term

Essex Scholarship

Short Term


For Students

For Parents

For Teachers & Schools

For Host Families

Prospective Rotary Clubs

For the ESSEX Inbound

For the ESSEX Outbound


Host Family Sign up

Volunteer Sign up

YEO Web Portal

Guarantee Form F & Hosting Form



Certification and/or Process


Outbound Student

Inbound Student

Host Family

Volunteer

US Department of State

Presentation Materials

Tzell Travel Agency

CISI - BOLDUC Insurance

ESSEX Executive Board

Photo Album


For members...

Administration Login
Hosting a Youth Exchange student from another country is a challenge—and an opportunity. Involvement with an exchange student challenges a host family to become familiar with another culture, while providing the opportunity to share a student's hopes and ambitions. These challenges and opportunities promise to enrich the lives of every member of your family.

Because Rotary exchanges with more countries than any other exchange organization, you could have a student from one of 163 countries living in your home. Not only will you provide an unforgettable service to a student from abroad, but you also will educate your family about the world around them.

Host family responsibilities

As a Rotary Youth Exchange host family, it is your responsibility to provide room and board for your exchange student. You are also expected to exercise general parental supervision over the student just as you would your own children, and involve him or her in daily household chores and activities.

However, most host families' involvement with their student does not stop at room and board. The families often share their native background while also learning about their visitors' culture. This does not mean that you have to arrange elaborate entertainment, but simply make the student a part of your family. Give him or her the opportunity to share in the same aspects of your family life that most teenage students experience in your culture.

Other suggested host family responsibilities include:

* meeting your exchange student on arrival in your country and making the student feel at home as part of the family;
* helping the student master the language;
* involving the student in obligations similar to those established for your own family members;
* helping the student meet Rotary obligations, which usually include attending Rotary functions, including club and/or district meetings;
* seeing that the student meets other young people;
* providing a safe environment for the student and ensuring the student's safety;
* being tolerant of differences and willing to change your own ideas.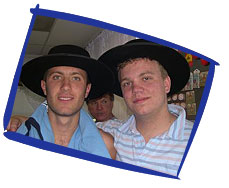 Rotarian responsibilities

Rotarians work to take care of the logistics of the exchange. As all Youth Exchanges are carried out at the local level, the local Rotary club and district will arrange school enrollment, tuition and other educational matters with the local secondary school (for long-term exchanges). All program volunteers are devoted to the safety of the students, and the host club and district maintain policies and procedures to protect the students. Local Rotarians also introduce the student to the other club members and organize some social and cultural functions for the student to attend.

For long-term exchanges, the hosting club or district appoints a Rotarian counselor and arranges a monthly allowance for the student. The Rotarian counselor maintains contact with the host family and the student throughout the exchange.

While Rotary International offers support to local Rotary Youth Exchange programs through publications and suggested guidelines, Rotary districts and clubs run their programs independently of Rotary International. Therefore, each club or district program has its own specific rules for youth exchange participants to follow.
Books for host parents

Host Family Survival Kit: A Guide for American Host Families, by Nancy King and Ken Huff,
Published by Intercultural Press, June 1997, ASIN: 0933662521.
This book, which is based on case studies, is a good primer to help "expecting" host parents to prepare for a student exchange program. It discusses cultural differences and perspectives, culture shock (and how you can help), what to expect, how to deal with the development of your relationship with your exchange student, helping your exchange student adjust to life in a foreign land, setting up ground rules, money issues, working with special needs students, and interfacing with hosting organizations. It also includes good advice on dealing with common issues and problems.